For my daughter's second birthday we decided to do a barbeque at home. I was trying to decided what to cook and after some debate I opted for pulled pork because I hadn't done it for a while. More specifically, I haven't made it since my daughter's first birthday. (I smell the start of a tradition!)
Flash forward to Costco. I always like to pay their meat counter a visit ever time I stop in. I have always been amazed by the size of their butts. They are HUGE. I was about ready to pass on them, that is until I checked the price. 12.85 lb for $24.29. SOLD! Upon closer inspection I noticed that they were boneless. I thought it was odd, but for that price I thought it was worth a try.
I took them home and opened them up to find two nicely marbled butts. I rinsed them off and did some miscellaneous trimming.
Here are the butts after a heathy dose of The Squeal Rub.(It is my favorite pork rub. I have always found this rub hard to find and was recently delighted to find it at my local World Market as well as my local Academy.)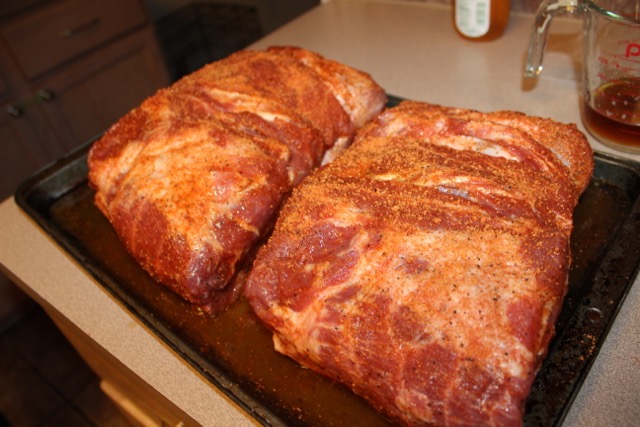 After rubbing them down, I injected them with Chris Lilly's infamous pork injection. You can find this receipe in his excellent Big Bob Gibson's BBQ Book.
I have reprinted it for your convenience:
3⁄4 cup apple juice
1⁄2 cup water
1⁄2 cup sugar
1⁄4 cup salt
2 tablespoons Worcestershire
I prepped the butts the day before and started my egg at 6:30am the following morning. The butt's went on at 225°F at 7pm.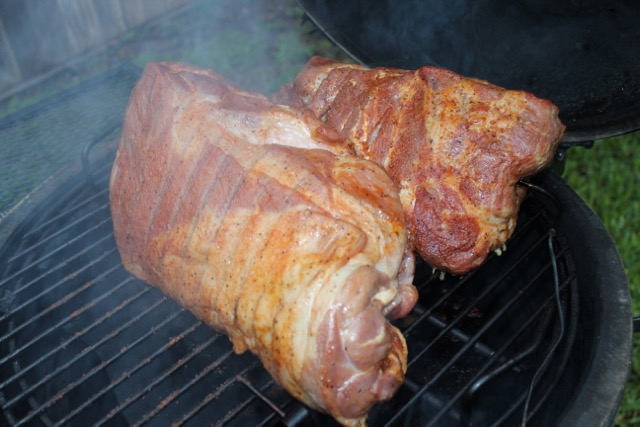 The cook went down like this:
| Time | Egg Temp | Larger Butt Temp |
| --- | --- | --- |
| 8am | 275°F | 75°F |
| 9:15am | 230°F | 129°F |
| 10:13am | 255°F | 147°F |
| 11:43am | 261°F | 163°F |
I wrapped the butts at 11:54am. The smaller butt was at 168°F and the larger butt was at 163°F. At 1:17pm, the egg was at 252°F and the larger butt was at 181°F.
At 2:25pm the smaller butt had reached 206°F so I pulled it. The larger on reached 199°F at 2:41, but was really soft so I pulled it. One a side note, it is a little interesting to judge the doneness of a butt without a bone. In the end, I just pulled them when my thermapen went into them like a hot knife through warm butter.
These sat in wrapped up in an extra layer of aluminum foil and paper towels in a turned off oven for a couple hours before the party started.
When the time came, my wife ripped them up using bear paws. We also poured in some of the excess juices from the foil (only some of them…there was a lot!)
It was excellent! Here are the pictures of the final product.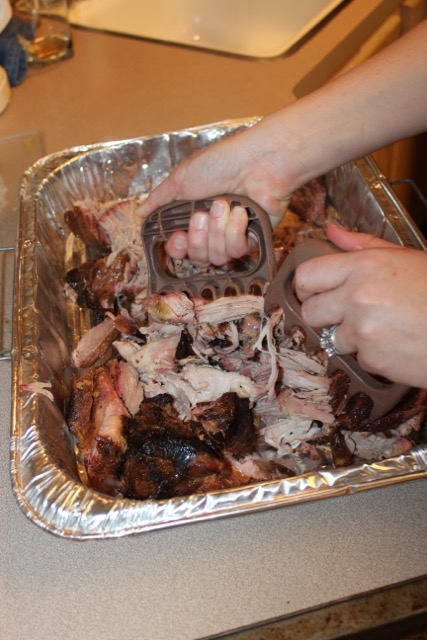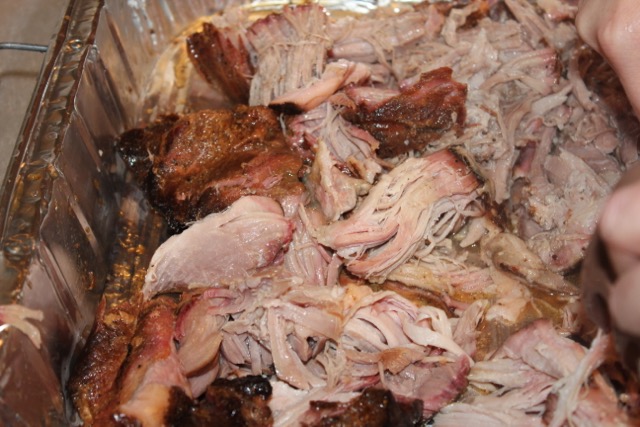 We served it on buns along with the choice of a Columbia Gold Barbecue Sauce and East Carolina Kiss & Vinegar Barbecue Sauce & Mop.
By the way, if you have not had a mustard BBQ sauce I would HIGHLY recommend the Columbia Gold Barbecue Sauce!!! I would recommend making both recipes the day before so the flavors can meld in the fridge over night.