I have only cooked St Louis Style Ribs once and they didn't turn out all that well. This year I was out for vindication and added them to my Things I want to BBQ This Year list. (So far I am 2 for 8! I need to get moving)
I usually like to buy unseasoned ribs and rub them down with my favorite rub, but this time I decided to try the preseasoned Costco ones. (They sell their pre-seasoned ribs in packages of two and I needed two racks. Coincidence? I think not!)
I threw these on the on a 217°F egg at 12:12 along with some hickory chunks.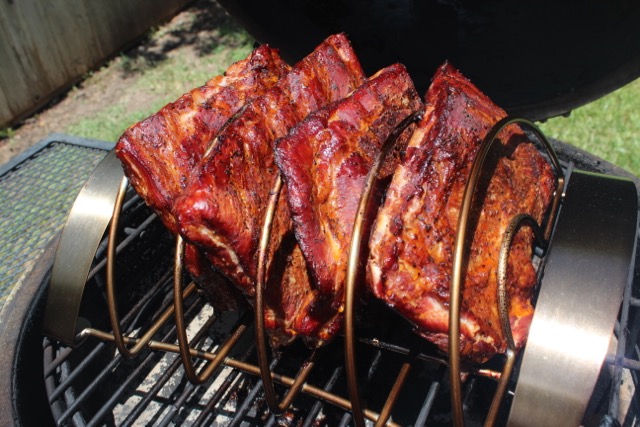 I finally got around to using the Weber Style Rib Rack my sister got for Christmas several years ago. It looks like its officially discontinued so I am sad to report I really like it! It's nice having a rack that allows you to slide the ribs in at an angle.
The cook went down like this:
| Time | Egg | Action |
| --- | --- | --- |
| 12:12PM | 217°F | Put ribs on |
| 2:05PM | 250°F | Rotated Ribs |
| 3PM | | Poked Rubs with tooth pick. They were really soft. Decided to skip crutch. |
| 4PM | 240°F | Rotated Ribs |
| 4:30PM | | Pulled Ribs |
I am a big fan of the 3-1-1 (3 hours unwrapped, 1 hour wrapped, and another hour unwrapped) method for baby backs. For St. Louis ribs the same crowd seems to suggest 3-2-1. Seeing how tender they were after 3 hours I decided to forgo the Texas Crutch. The ribs seemed REALLY tender at 4PM and I was tempted to pull them, but I pushed on. At 4:30 they felt like they were starting to get tough. In retrospect I probably should have followed my instincts.
I wasn't planning on eating until 5:30-6, so I wrapped them up individually in AL foil and placed them on a cookie sheet. I wrapped them up with a towel and placed them in the oven. About 30 minutes before dinner I threw them on my Weber over direct high heat for 1-2 minutes per side. I decided to sauce one rack (that's right I was feeling saucy) and leave one rack sans sauce (AKA Texas Style).
The ribs turned out really well. Although Jen says she prefers my baby backs. I guess that means I am doing some cherry glazed ones next!